Latest News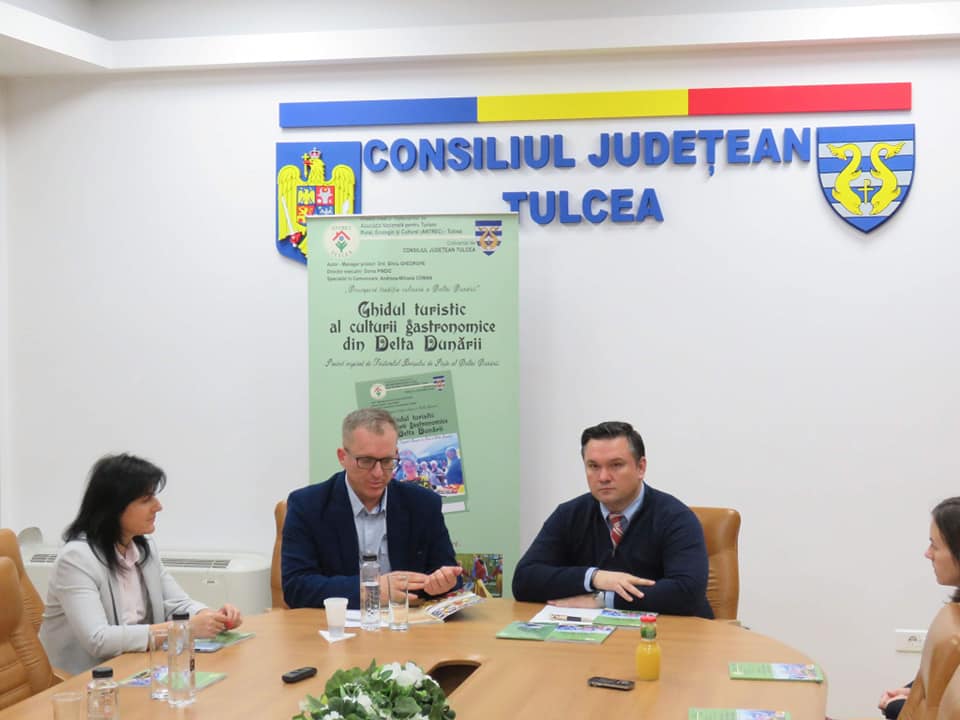 The book "Tourist Guide of Danube Delta gastronomic culture" was launched at Tulcea County Council conference
On Thursday, November 7, 2019, the vice president of Tulcea County Council, Dumitru Mergeani participated in the launch conference of the Tourist Guide of Danube Delta gastronomic culture, a book made by ANTREC Tulcea, represented by the President Siviu Gheorghe, with the financial support of Tulcea County Council.
"This tourist guide is a material that has been worked on a lot, with a financing provided by the Tulcea County Council based on Law no. 350 on non-reimbursable financing. It is one of the objectives that our institution has in mind, namely the promotion of Tulcea County. I saw a lot of interesting things in this guide, apart from recipes, information about the Danube Delta, about its history, its people, localities, about the local traditions. It is a guide that every tourist who comes to Danube Delta needs, but it is just as good for the locals of Danube Delta.
The guide will require a re-edition, because it is very complex and will certainly be requested by tourists, especially since it is distributed free of charge to those who wish to have it in their homes. It is very good that we cover this part of Danube Delta, respectively the town halls and information centers, where this kind of materials is needed. It is an easy-to-read material, we want in the future, when republished, to translate it in English for foreign tourists. I saw a lot of photos with the activities in Danube Delta, including the major event of ANTREC Tulcea, respectively the Fish Borscht Festival from Crișan. Along with this we have other similar events in Danube Delta, which are welcomed and bring many tourists.
I say that it is a very well made and documented material, which is why I congratulate the whole team because it comes with a new project. We have already gotten used to working with ANTREC Tulcea, which always found the door open at Tulcea County Council. Thank you very much for your collaboration, for making this very good material and we are waiting for you with other projects", said Vice President Dumitru Mergeani.
The guide will be distributed, in addition to the tourist information centers in Tulcea and the capital, to some of the town halls in Danube Delta, to the villages and schools libraries for all those who want to get basic information of Danube Delta culture and local history.